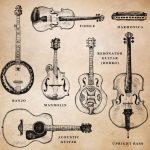 Vita (latin for "life") isn't a band really, but will be a collection of projects, mostly acoustic.  These are things on which I might play guitar, banjo, dobro, and sometimes do the recording engineering and mixing.
Some brief liner notes:
A New Day Waltz is a nice piece composed by Allen Samelson.  This is a covid record-at-home project, where we never saw each other during the process.  Allen and I made a scratch track and sent it out, everybody recorded their parts and sent them back to me, and I put it together and mixed it. Instrumentation is:

Allen Samelson – mandolin
Liz Klute – guitar
Dave Bullen – acoustic bass
Amy Guiang – violin
Jerry Fiddler – dobro

Big Country (solo) is an audition that I prepared for Bela Fleck's banjo camp that, sadly, never happened because of covid.  It's a piece by Bela Fleck.  This is a short version because of the audition restrictions.
Peaches and Cream is the second audition for the same camp.  It's a wonderful piece by Alan Munde.
You can download the songs, if you like, by clicking here.