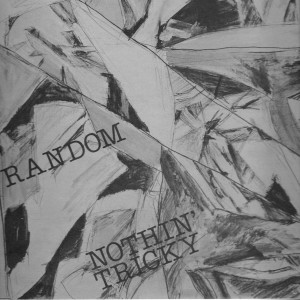 Ralph Athey: Clarinet, Saxophone, Vocal
Jerry Fiddler: Electric & Acoustic Guitar, Vocal
Sam Kolmodin: Contrabass, Bass Guitar, Vocal
Sandy Robinson: Viola, Violin, Vocal
Paul Shimandle: 12-String Guitar, Vocal
…with…
Rocky Moffit: Drums & Percussion
Engineers: Harry Gilling, Jim Corbett
Production: Harry Gilling, Ralph Athey, Paul Shimandle, Jerry Fiddler
Recorded / Mixed at: Sunday Studios, Urbana, Illinois
Cover Design: Paul Shimandle
Cover Drawing: Katy Fortune
Photography: Jerry Fiddler
Some notes about the Random CD…
Random was a band in Champaign-Urbana, IL, in the late 1970's. We played small venues – mostly coffee houses. We played originals, as well as an eclectic assortment of covers (Stolen Moments, San Antonio Rose, …). The band name was originally "Random Rhythm and His Miscellaneous Meter Review," but it kept getting shortened.
Nothin' Tricky was our only recording. It was recorded in a 16-track analog studio, with all songs recorded in one take – no overdubs. (OK, one overdub – the whistling in Becky.) We released it as an LP. Yes, genuine 12″ vinyl. Since the master tapes are lost to antiquity, I digitized an LP in order to re-publish the music.
The album was dedicated to Werner Heisenberg. It was the 70's, after all.
Not Yet / Shimandle
It Hertz / Athey
Becky, Your Dental Hygienist / Fiddler
Wind Ribbon / Shimandle
Towner Hall / Fiddler
Procyon Lotar / Athey
MiddlesThree / Shimandle
Seminole Sam / Athey
You are free to download all the songs here.